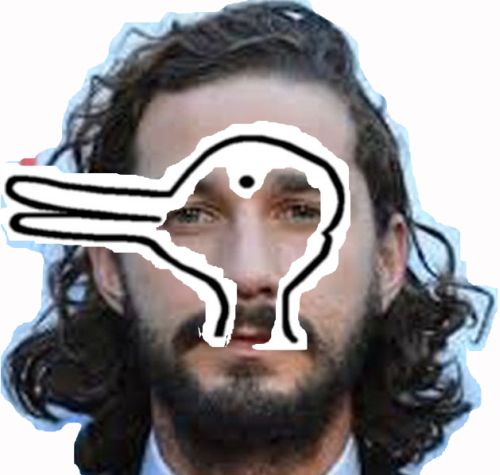 &nbsp
Why Be Original?
Goethe suggests that, in order to see anew the world that is right in front of us, and guide others to see it too, requires original genius with its radical spontaneity. Even the mature Goethe, who believed in the value of tradition, suggests that a person's "spontaneous creative energy" (Beddow, p . 106), which is within him/her, must be intertwined with that tradition, to move the world forward.
In order to see the world anew, it isn't enough to look closely at the external world, itself. In the final quatrain related to the painting of "Genius Unveiling a Bust of Nature," Goethe writes that a genius must "First penetrate within / Then return toward the outside, / Then you will be instructed in the best way" (8). You can only see the world anew and better if your perceptions are accurately guided by intuitive knowledge (see Hadot) - by an intuition within you, which requires you to penetrate yourself.
To see the world anew, as Goethe recommends, really does seem to be the work of original genius, rather than the work of unoriginal genius. Even the language he uses seems to compel us to see his genius this way. Remember that theorists tend to describe original genius as organic and natural, and unoriginal genius as artificial and mechanic. While Goethe does not appeal to two separate notions of genius, he does use the same sort of language. Referring to the painting of "Genius Unveiling a Bust of Nature," which you can scroll up in this project to see, Goethe instructs the figure not to focus on the bust, but rather to turn to the landscape behind him (Hadot, p. 252), writing: "If you want to live, poor fool, / Look only behind you, toward empty space." For genius to remain alive, it cannot see nature as a bust, or as a fixed and artificial figure. Rather, illuminated by intuition, you should see nature "all at once" (9) as the changing, organic landscape that it is. In a different context, Goethe suggests much the same sentiment; the true genius's process is organic rather than mechanic, and you cannot constrain nature "with levers and screws" (10).
But why couldn't Goldsmith's process - appropriating and re-arranging texts and images - just as successfully change our perceptions, and let us see the world as Rabbit rather than as Duck? Even if we can take Goethe to very-indirectly imply that a process like Goldsmith's could never be successful, why couldn't it?
I was unable to find an answer that satisfied me, until I read a passage by William Lycan, which he wrote while exploring Wittgenstein's discussion of the Duck-Rabbit: "A person who had never seen a real Rabbit, or a picture of one, could not see the Duck-Rabbit as a Rabbit, unless he were given to random, uncontrollably fantastic imaginings" (Lycan, p. 234).
Imagine, again, the world in which everyone has seen the image of the Duck-Rabbit, but we've always seen it only as a Duck, and never as a Rabbit. But further suppose that we have never actually seen any Rabbits, either. Then, the only way that the artist, in his mountain cave, could start to see the image as a Rabbit would be if "he were given to random, uncontrollably fantastic imaginings" (Lycan, p. 234).
An unoriginal genius, such as Goldsmith, could never accomplish this. All Goldsmith can do is select from thousands of pre-existing types of font, or choose between a million pre-existing paragraphs, or a hundred million photographs, to use on his cover. But as long as the unoriginal genius is making choices between pre-existing options, he will never select or create a new option. What does a genius do, when she sees the picture as a Rabbit even though everyone else has always seen it as a Duck and nobody has even ever seen an actual, breathing Rabbit? The genius must suddenly spot a brand new option, never before established. When she helps us to see the picture that way, too, she helps us to discover a brand new possibility for ourselves - a possibility that never existed before. She reinvigorates and possibilitizes the world, in a way that an unoriginal genius, who can only select from his pre-existing options, can never do.
Goldsmith's process involves looking outside himself - at other people's digital data, such as texts, worlds, and images, and recombining, omitting, juxtaposing, and reformatting them. But instead of looking outside, the original genius must "penetrate within." If the original genius is going to find a brand new, never-before-established choice for what to see the world as, he is going to have to find it in himself. The new option must be spontaneously created within him, rather than found outside him. Thus, the original genius artist, to accomplish Goethe's task, must have something special inside him - perhaps not innately, but nonetheless there - that enabled him to see in the image what no one else saw! It would, for the rest of the world and perhaps even to the artist, herself, seem like magic!
It might, in fact, be completely impossible for anyone to start seeing the world in such a radically different way - a way that, were we to see it, would help us lead better lives and move toward a more-unified, happy world. Vermeulen and van den Akker's work is full of the sense of impossibility. For example, they suggest that, while utopian desires play an important role in many metamodernist projects, the artists themselves lack conceptual tools necessary to imagine utopia, and realize that utopia could never be realized even if they didn't (Vermeulen and van den Akker (B), p. 11). They suggest, then, the metamodernist artists inevitably must make attempts "in spite of their inevitable failure" (Vermeulen and van den Akker (B), p. 12). They associate metamodernism with an "informed naivety"; its artists knows that we aren't moving forward to some ultimate goal, but commit themselves to acting as if such a goal exists and is achievable (Vermeulen and van den Akker (A), p. 5).
The metamodernist genius, then, is much like the woman who is trying desperately to see reality as Rabbit, when all she or the rest of us can see is Duck. It is impossible for her, and she knows it, but she chooses (self-enforces) to remain half-naive, and to optimistically seek the Rabbit, anyway. If nothing else, she can at least point to our limitations, and let us know our limits. According to Vermeulen and van den Akker, this is at least distantly relevant to what the artist, Thorpe, does in his work, which appropriates numerous seemingly-incompatible contexts and sensibilities. Thorpe doesn't show us a stable, achievable, imaginable utopia. Instead, he "shows us the possibilities of the future precisely by drawing attention to the intertextual limitations of the multifarious past" (Vermeulen and van den Akker (B), p. 6). We may not be able to see or achieve Rabbit, but at least we'll know we're stuck on Duck and something else is out there.
I no doubt feel this sense of impossibility myself - this sense of moving forward blindly and optimistically, with a self-enforced naivety - despite every indication that the world is going to shit. I feel the impossibility, but I REJECT IT. Here, at the end of this project, I happily reject this aspect of metamodernism. I reject it. I reject it with a heartfelt need. I naively reject it. A new way of seeing - a better way of seeing - can be achieved, and, once achieved, it can be realized in action. I choose - very, very deliberately choose - to believe this. I do not think that everyone is capable of seeing the world in a brand new way - finding the Rabbit when everyone else is stuck on Duck. I do think there are people - though not me - who are capable of doing so, who have something inside them comparable to magic.
This is not ridiculous. Despite what a Postmodern theorist might say, there exist great-souled men and women who possess an "inner richness" or "inspiration" (Jameson, p. 306), which make it possible for them to accomplish their work, and without which, no matter how well they maximize the resources available to them, and no matter how well they could assess the systems around them and act within them, they could never have succeeded. As long as they are just exploiting external systems and their possibilities, an artist will never be able to generate a truly new choice. And some artists have magic in them that enable them to make new choices, and to possibilitize the world for us! Let me - non-ridiculously - proclaim myself a member (a blind follower rather than a leader) of the cult of the great-souled man!
FIN!!!
* * *
You can visit Andrew J. Corsa's main webpage here. You can find him on twitter.com here.
* * *
(1) The choice to mention Edward Young was not arbitrary. His work had a substantial impact on the thinking of Goethe, whose account of genius I discuss later (for more about this, see Beddow).
(2) Goethe, Zahme Xenien, vol. 6, in WA, I, 3, p. 354. As translated in Hadot, Veil of Isis, 253.
(3) Goethe, Xenien, 155, HA 10:435-436 As translated in Hadot, p. 257.
(4) Goethe, Epirrhema, WA, I, 3, p. 88. As translated in Hadot, p. 256.
(5) The way I described this scenario was influenced indirectly by several of William Lycan's claims, in the context of discussing the Duck-Rabbit. The first: "Our weighting of the criteria in a given case is itself affected and conditioned to some extent by representational convention and by our own habitual way of seeing real objects" (Lycan, p. 232). The second: "Two congruent Duck-Rabbits can be 'seen as' being quite dissimilar if one is surrounded only by picture-Ducks and the other only by picture-Rabbits" (Lycan, 229).
(6) Lycan refers to the ""The range of possibilities for 'seeing as' which [an artist] has set before us" (Lycan, 230).
(7) Lycan writes that we "'cannot' see both the Rabbit and the Duck, in the sense that the mass of expectancies . . . involved in seeing the Rabbit is incompatible with the equally weighty mass involved in seeing the Duck" (Lycan, pp 231-232).
(8) Goethe, "Genius die Buste der Natur enthullend,"in WA, I, 4, p. 127. As translated in Hadot, p. 249.
(9) Goethe, "Allerdings: Dem Physiker" (Certainly: To the Physicist), in the group of poems titled Gott und Welt (God and the World), WA, I, 3, p. 105. As translated in Hadot, p. 253.
(10) Goethe, Faust pt. 1, 11, 668-674 in Theatre compet (Paris, 1958), p. 971 [in English, Goethe, Faust: A Tragedy, trans. W. Arndt, ed. C. Tamlin (New York, 1976) - Trans.] As in Hadot, p. 250.
Books and Articles from Traditional Academic Journals
Beddow, Michael. "Goethe on Genius." In Genius: The History of an Idea, edited by Penelope Murray, 98-112. Oxford: Basil Blackwell, 1989.
Goldsmith, Kenneth. Uncreative Writing: Managing Language in the Digital Age. New York: Columbia University Press, 2011.
Hadot, Pierre. The Veil of Isis: An Essay on the History of the Idea of Nature. Translated by Michael Chase. Cambridge, Mass: The Belknap Press of Harvard University Press, 2006.
Jameson, Frederic. Postmodernism, or, the Cultural Logic of Late Capitalism. Durham: Duke University Press, 1991.
Lycan, William G. "Gombrich, Wittgenstein, and the Duck-Rabbit." The Journal of Aesthetics and Art Criticism 30, no. 2 (1971): 229-237.
Perloff, Marjorie. Unoriginal Genius: Poetry by Other Means in the New Century. Chicago: The University of Chicago Press, 2010.
Vermeulen, Timotheus and van den Akker, Robin (A). "Notes on Metamodernism." Journal of Aesthetics & Culture 2, no. 10 (2010): 1-14.
Vermeulen, Timotheus and van den Akker, Robin (B). "Utopia, Sort of: A Case Study in Metamodernism," Studia Neophilologica (2014): 1-13.
Wittgenstein, Ludwig. (3rd Edition with English and German Indexes). Translated by G.E.M. Anscombe. New York: The Macmillan Company, 1958.
Young, Edward. Edward Young's Conjectures on Original Composition. Edited by Edith J. Morley. London: Longman, Green, & Co, 1918.
Web-Based Content: In Order of Reference
Schwarz, Abigail Ann. "On Shia LaBeouf's Metamodern Performance Art." Notes on Metamodernism. April 8, 2014. Accessed March 10, 2015. http://www.metamodernism.com/2014/04/08/on-shia-LaBeoufs-metamodern-performance-art/#comments
TMZ Staff. "Shia LaBeouf: Latest Skywriting Stunt Cost $25,000." TMZ. January 11, 2014. Accessed March 10, 2015. http://www.tmz.com/2014/01/11/shia-LaBeouf-skywriting-apology-retirement-25000/
Admin. "Shia LaBeouf's #IAMSORRY at Cohen Gallery." Olson Visual. March 6, 2014. Access March 10, 2015. http://olsonvisual.com/shia-LaBeoufs-at-cohen-gallery/
LaBeouf, Shia. "#stopcreating." The New Inquiry. January 20, 2014. Accessed March 10, 2015. http://thenewinquiry.com/features/stopcreating/
LaBeouf, Shia, Nastja Säde Rönkkö, and Luke Turner. "#INTERVIEW." Accessed March 10, 2015. http://thecampaignbook.com/interview/
Turner, Luke. "Metamodernism: A Brief Introduction." Notes on Metamodernism. January 12, 2015. Accessed March 16, 2015. http://www.metamodernism.com/2015/01/12/metamodernism-a-brief-introduction/
Leitch, Scott. "Shia LaBeouf Runs Metamarathon Art Project." Canadian Running Magazine. September 26, 2014. Accessed March 10, 2015. http://runningmagazine.ca/shia-LaBeouf-runs-metamarathon-art-project/
Turner, Luke "Metamodernist Manifesto." 2011. Accessed March 10, 2015. http://www.metmodernism.org
"Metamodernism - the Return of History 25 Sep 2014." The Stedelijk Museum Amsterdam. Accessed March 10, 2015. http://www.stedelijk.nl/en/calendar/symposia/Metamodernism-the-return-of-history
Vermeulen, Timotheus. "Timotheus Vermeulen on Metamodernism." By Cher Potter. May 2012. Reproduced on lonelyfingers.com. Accessed March 10, 2015. http://www.lonelyfingers.com/timotheus-vermeulen/